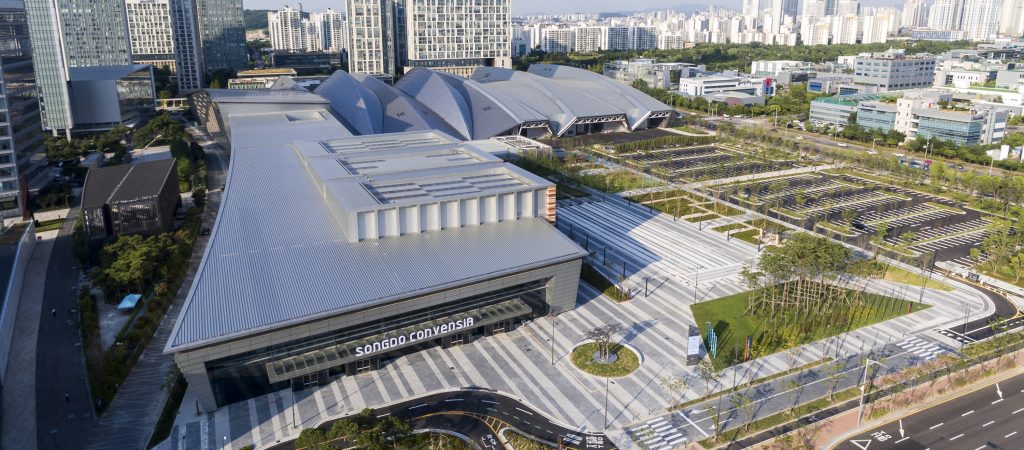 Click HERE to take a virtual tour of Songdo ConvensiA.
Songdo ConvensiA
As the conference venue, Songdo ConvensiA has a unique and stylish design and embodies the beauty of the ridges of the Taebaek Mountains in Korea. It is a state-of-the-art international conference site equipped with a high-tech ubiquitous system, and eco-friendly green facilities. It has acquired Asia's first LEED (Leadership in Energy and Environment Design) and BF (barrier-free) certifications and applied various eco-friendly technologies to improve energy efficiency. It offers convenient accesses to adjacent facilities such as the international Business District, Bio Research Complex, Lotte Mall, Jack Nicklaus Golf Club, Incheon Art Center, Central Park, Sun Rise Park, and so on. Also it embraces fun activities at Central Park such as riding the water taxi, kayaking or visiting NC Cube shopping mall.
Songdo ConvensiA first opened in 2008 and has been hosting many international conferences and exhibitions ever since. It has a wide range of meeting rooms to accommodate small sessions through to large conferences. All meeting rooms are equipped with a built-in projector and an LCD screen. Thus, numerous meeting rooms in its size, functionality, and flexibility make Songdo ConvensiA the unbeatable choice for INTERSPEECH 2022. The convention center was reopen in July 2018, after expanding its gross floor area by 64,000 square meters, and has doubled to its current size. Exhibition halls with 900 booths and grand ballroom are able to accommodate over 2,500 delegates.
Keynote sessions and exhibition will take place at Grand Ballroom and Premier Ballroom respectively on the 2nd floor. Technical sessions will be held at small and medium sized rooms and foyers on the entire floors. We will arrange enough space for ancillary services; Speaker's Ready Room, Child Care Center, Medical Care Center, Family Room, Prayer Room, and Press Room.
Songdo ConvensiA
Address: 123 Central Street, Yeonsu-gu, Incheon 21998 Korea
Phone:+82-32-210-1114
Floor Plan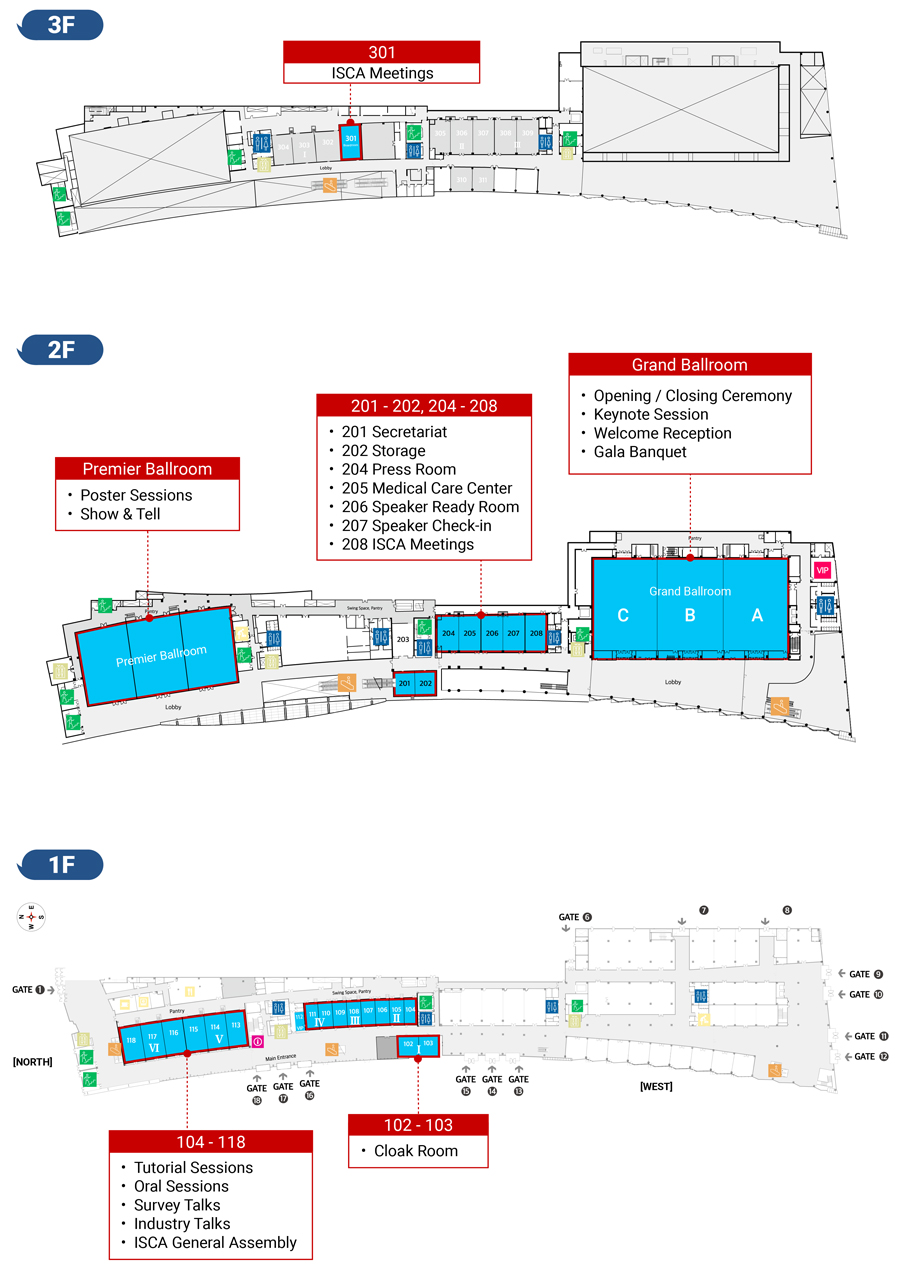 Directions